"We have lost a true icon of the Battersea property world."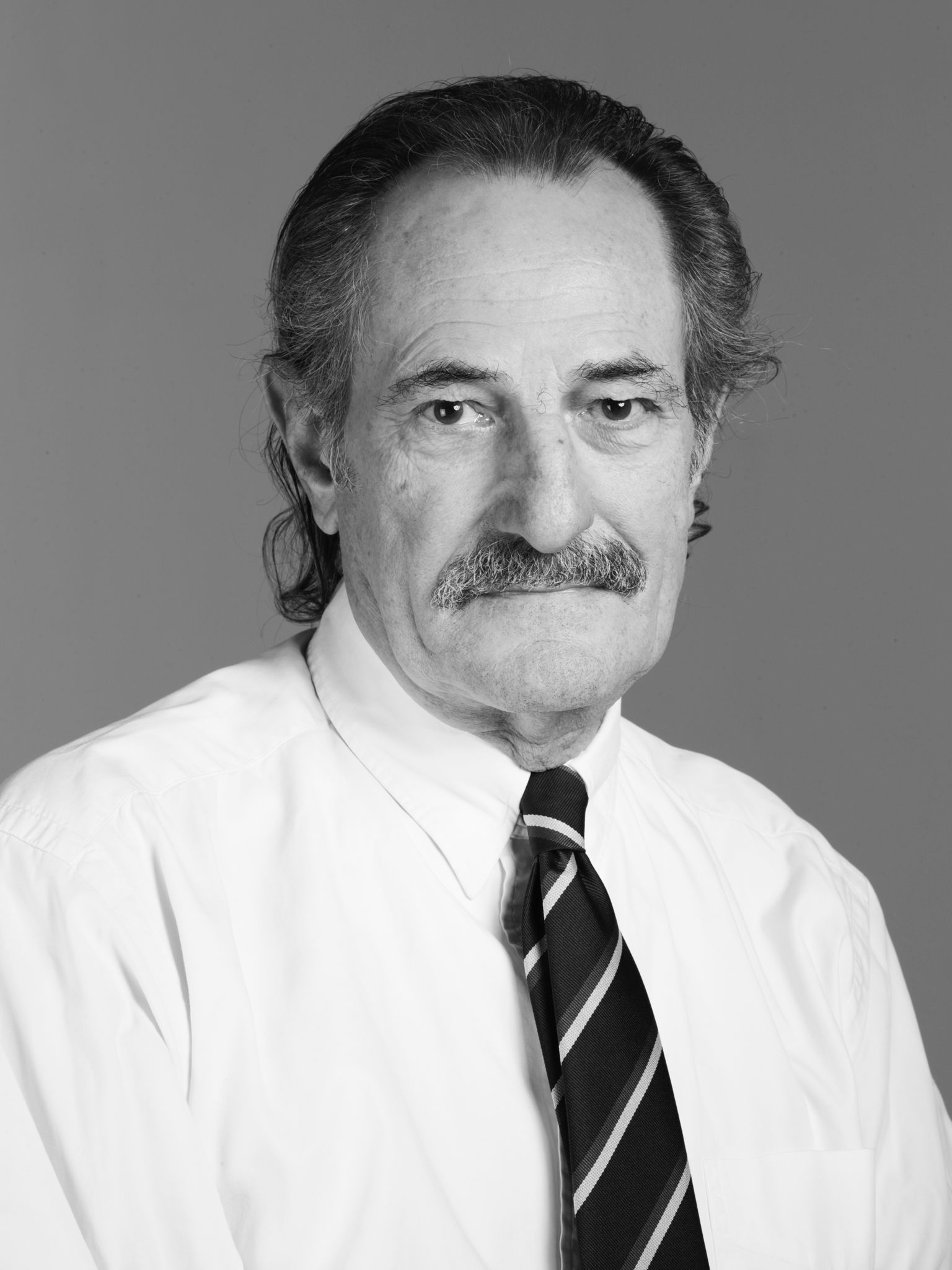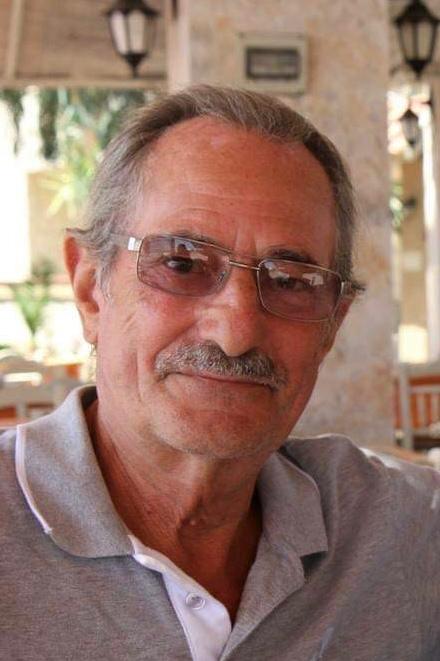 We are heartbroken to announce that our founder, John Thorogood has very sadly passed away this week, a fortnight short of his 89th birthday, after several years suffering with dementia.
As we are a family business, he was also, of course, husband to Janet, father to Austin and father-in-law to Cara, all of whom work for the company he created. He leaves three other children, twelve grandchildren and one great granddaughter. He will be hugely missed by us all.
John Thorogood has been a hugely respected name within the Clapham, Battersea and Wandsworth property market for over 50 years and hopefully will be for many years to come. As his former boss told me on hearing the news,
"We have lost a true icon of the Battersea Property market!"
Roger Taylor, owner of Bells Estate Agents where John was sales manager.
John was, in fact, credited by some for helping to make the Clapham area popular through the 1970s and early 1980s, when it was still distinctly unfashionable. He was admired, respected and loved by his colleagues and clients alike and was an inspiration to all of those that worked with him, none more so than me.
"Good morning Austin. I'm very sorry to hear that news, your father was an inspiration to me.
Please let me know when the funeral is, I would like to pay my respects. Send my regards to your mother and your family."
Robert Trindle, former negotiator for John and later owner of his own agency.
I worked with my father, John for the best part of ten years, with my wife, Cara, joining in the last few years before John retired. The lessons Cara and I learnt during those years, watching and listening to John, have underpinned everything we have stood for and succeeded in as an agency in the twenty years since his retirement, and everything we continue to believe in going forward. He showed me, as I show others who join us, that transparency, honesty and respect should be the pillars of our business and we honour that as we continue to grow and build on his legacy. Every five star review we receive, complimenting us on these core values, makes me think of my father and how proud he would be of each and every one of them.
In the numerous kind condolences that we have already received, what comes across loud and clear from other people's shared memories are his sense of humour and his friendliness.
"So sad to hear this Austin- your dad was a legend and had a wicked sense of humour …
will always remember our red wine after work catch ups on Battersea Rise."
Nick, former client and friend.
"I am so sorry to have learnt about John passing.
He was always charming and offered an uncommon personal touch with a wry sense of humour"
Steve Boswell – local property developer.
That sense of humour made a lasting impression around the area as John became renowned for writing (in Roy Brooks style) very witty property ads (in those days it was mostly in the Sunday Times). My personal favourite (in 1993) was his use of the then fairly-unknown Edvard Munch painting, The Scream (long before the hit horror film, "Scream" made it famous). He put a caption below saying "just one of our tortured buyers desperate to find a property between the commons"-  brilliant! What was not so brilliant, was that John got fined for breach of copyright as it was only 49 years since Munch had passed away it  (not the required 50 years after which apparently it was ok to use the artwork!).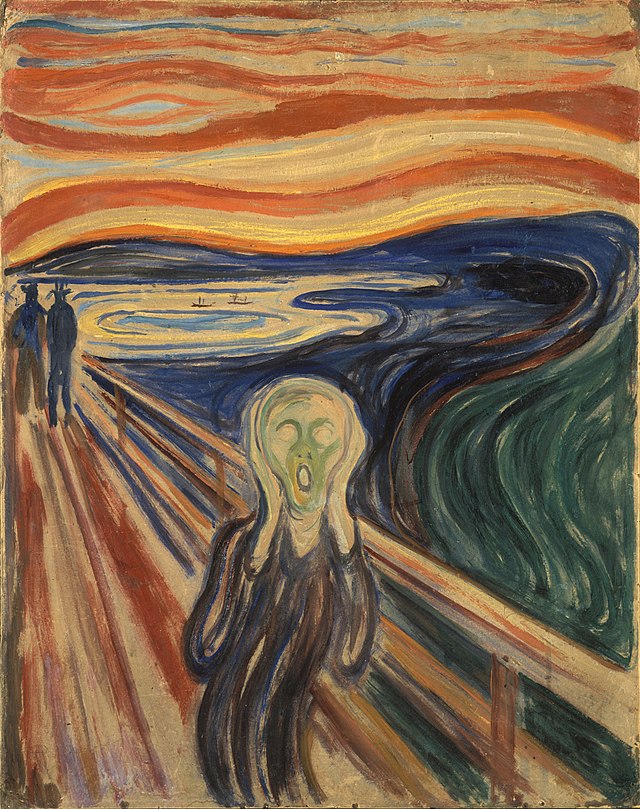 "Just one of our tortured buyers desperate to find a property between the commons!"
Cara and I have always tried to retain John's originality and sense of humour in our ads in tribute to him and his attitude of not taking himself too seriously. Here is one we'd like to share with you (forgive us if you've seen this before)…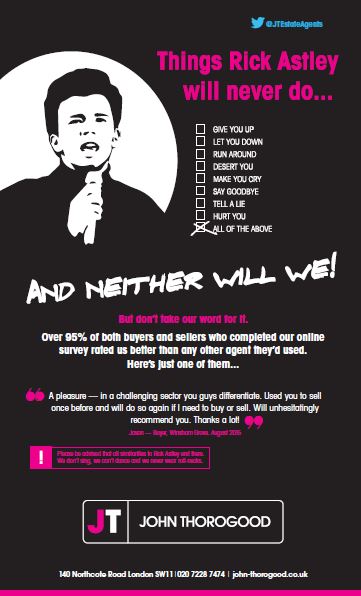 John was also known for writing property details with genuine passion for and interest in the period and detail of the house in question (the stuff that never dates!). He loved architecture and property and never used the word "stunning" unless the property had low ceilings! He taught me so much during my years with him and I have definitely grabbed that baton….
"We chose John Thorogood to sell our house because the photos and descriptions were so much better than the usual agent guff.
Their words about a house are warm and engaging, and bring it to life as a home, not a property."
Charlie, recent vendor.
For me, as well as him being a loving yet formidable parent (and boss!), an uncommon and original estate agent and one of the most generous people I have ever known, he was also a complex and colourful character that was never afraid to challenge the norms. He liked to fight for the underdog's cause, to stand out from the crowd and be true to himself. He was a huge lover of animals, feeding stray kittens on the Greek hillsides, homing wounded dogs and even transporting his cats and dogs on annual epic 3-day return drives to his second home in his beloved Lesvos. He was also a fantastic cook, an extremely good tennis player, a dab hand at playing Boogie-Woogie on the piano, a funny storyteller, a wine connoisseur, a lover of F1, a great photographer but above all else a family man.
His name is emblazoned above our office door, on every email, website, sold board and letter. It is spoken every time we pick up the office phone. He is all around me – always has been and always will be.
If any of you would like to share with us a memory you have of him, no matter how trivial, either from before or after Austin's time in the office, we would dearly love to hear from you – please email me at austin@john-thorogood.co.uk.
If you would like to read a little more about John's early years in Battersea and know some more about our company history, then click on the link below…
john-thorogood.co.uk/about-us/our-history/
Thank you for taking the time to read this tribute to my dad and I hope to hear more stories in the coming months.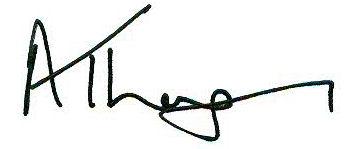 Austin Thorogood