Honeywell Catchment and Belleville Catchment areas – the latest results…
The latest admission results are out for our two, prized, local state primary schools. And the results, as always, are interesting!
Distances shown below are for first round of offers  in April each year followed by distance by the start of term in September (the figure in brackets).
2020                Belleville                        – 923 metres (tbc…)
2020                Honeywell                     – 336 metres (tbc…)
2019                 Belleville                        – 391 metres (470 metres)
2019                 Honeywell                      – 250 metres (279 metres)
2018                 Belleville                        – 399 metres (482 metres)
2018                 Honeywell                      – 315 metres (315 metres)
2017                 Belleville                        – 985 metres (1269 metres)
2017                 Honeywell                      – 420 metres (968 metres)
2016                 Belleville                        – 396 metres (553 metres)
2016                 Honeywell                      – 242 metres (282 metres)
2015                 Belleville                        – 474 metres (569 metres)
2015                 Honeywell                      – 189 metres (189 metres)
2014                 Belleville                        – 238 metres (346 metres)
2014                 Honeywell                      – 182 metres (190 metres)
2013                 Belleville                        – 274 metres (306 metres)
2013                 Honeywell                      – 233 metres (233 metres)
As an agent on Northcote Road for over 25 years I have seen, heard and been amazed at how the popularity of Honeywell and Belleville schools has increased. During the 1990s and early 2000s the emergence of numerous high quality private schools in the area was and still is trumpeted from many quarters and there certainly is, of course, an excellent choice of those.
But without doubt, high on the initial agenda of many incoming buyers and tenants, irrespective of budget it seems, is to find a property within catchment for one or both schools. Flats and rented properties are often snapped up as a result.
Belleville 2014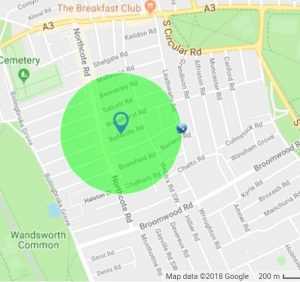 We register over 1000 new people at our Northcote Road office every year. But you can see on the unofficial diagrams attached here (drawn roughly by us in 2014, which is still the tightest year in recent history, and again in 2018) that this "catchment area" is generally very small and with a high sibling count most years, there will only be so many satisfied people who successfully get their children in. The rest must consider other primary schools (three others incidentally are included in the list of prescribed feeder schools for the relatively recently opened Bolingbroke Academy Secondary school) or go down the private route, or decide upon a different area of course…
Belleville 2018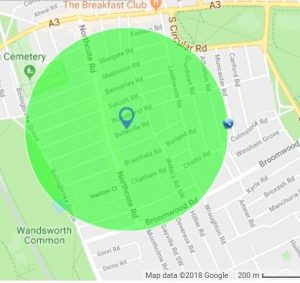 FACTS
Waiting lists work – children leave the school.
The catchment areas are shrank for the last 3 years  this year being the first increase for a while  despite new regulations.
True stories circulated in the past of people on Honeywell and Belleville Roads not getting a place at the respective schools.
Buyers and tenants look specifically for houses "guaranteed" to be in catchment. There is no guarantee.
You don't necessarily pay a premium to be in the catchment areas (it depends on the property!) You pay to be in the other nice parts of the areas between the commons too – just for different reasons.
Honeywell 2014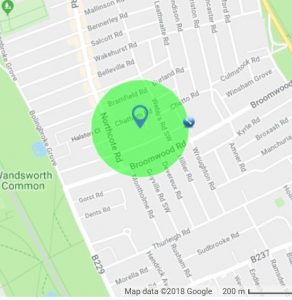 Many of the properties we sell or let are not in what most people determine the catchment area to be. And whether that area remains as it is today is uncertain – it shrinks and expands depending on sibling intake and any rule changes. These can be regarding change to methods of measurement, qualifying sibling entry, or rules/scrutiny regarding renting and in addition to Belleville's expansion, have all had an effect. The general trend has enlarged the catchments although there has been some contraction since the freakish results of 2017.
Honeywell 2018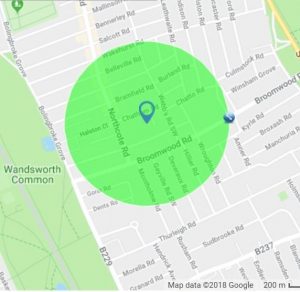 Prices have risen enormously over the past two decades but really there is far more to the area which makes it such a lovely place to live. The changes to Northcote Road are just as marked whilst green spaces, transport links to The City/West End, community activities, recreational facilities, independent shops and boutiques etc. all continue to attract people. If there is a temporary premium to pay, in order be in the catchment area, then frankly, why pay it? There are plenty of good and, in many cases, better houses available Between the Commons which you may find at a more sensible price level – at least for the time being.